The fear of the Lord is the beginning of knowledge. But fools despise wisdom and discipline. Pro. 1:7
As we transition into the New Year, we need wisdom to live right, and this verse gives us the perfect recipe. The starting place is the fear of the Lord which is reverence, dependence and absolute obedience to God. This is where true knowledge is found and without it, we perish or grope in total darkness.
The Bible is the source of knowledge which will then lead us to the fear of God. Let us commit to reading through the Bible this New Year and act only after we have asked ourselves:
What does the Bible say?
Next, we need wisdom which is the choice of the smartest way to apply any given knowledge for the best possible outcome. We have help.
"If any of you lacks wisdom, he should ask God, who gives generously …" James 1:5.
Knowledge does not translate to wisdom and so we need to ask God (PRAY).
Lastly, we need discipline to live right. Mere resolutions will not work. Discipline and persistence is training to acquire self-control for a way of life like a military person or an athlete will do. Paul disciplined himself and kept pressing forward toward the goal of his high calling.
Reliance on worldly knowledge and wisdom will be disastrous.
We must turn to God and His Word, acquire the right knowledge and wisdom from Him, then be persistent to discipline ourselves to live accordingly.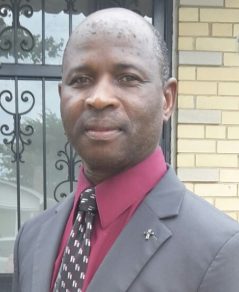 Author: Rev. Sunday Bwanhot, ECWA USA DCC Chairman
Rev. Sunday Bwanhot is a missionary to America serving with SIM/ECWA. He is an Economist by profession and has worked as a Statistician with Kaduna State Government. He later pioneered and managed the Challenge Press of ECWA in Jos before God's call to pioneer the Prayer Ministry of ECWA in Jos, Nigeria. In 1993, God called him to Chicago as a missionary and has been serving there since 1995 to date. Currently, he pastors ECWA Chicago which he planted and serves as the Chairman of the ECWA USA District Church Council. Loves being a grandpa of 8 grandchildren and enjoys writing.