You are worthy, our Lord and God, to receive glory and honor and power, for you created all things, and by your will they were created and have their being. Rev. 4:11. King James' version states that God created all things for His pleasure. The point is that God did not create you for you but for Himself. We entertain the idea that if we live for and serve God, He is obligated to protect, provide, and meet all our needs. We have even graduated from asking to commanding God and decreeing things that we expect Him to act on dutifully. We project ourselves as servants of God while trying to use God for our ends. We cannot hide our motives from Him. How many today will say with Paul, "for me to live is Christ and to die is gain?" (Phi. 1:21). How many will lose every earthly possession, including health, and say with Job, "The Lord gave, and the Lord has taken away; may the name of the Lord be praised?" (Job 1:21). Only people who know that God created them for Himself and not for themselves will live right.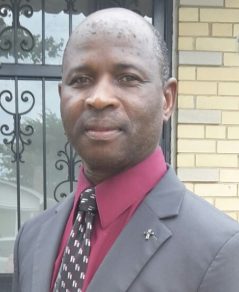 Author: Rev. Sunday Bwanhot, ECWA USA DCC Chairman
Rev. Sunday Bwanhot is a missionary to America serving with SIM/ECWA. He is an Economist by profession and has worked as a Statistician with Kaduna State Government. He later pioneered and managed the Challenge Press of ECWA in Jos before God's call to pioneer the Prayer Ministry of ECWA in Jos, Nigeria. In 1993, God called him to Chicago as a missionary and has been serving there since 1995 to date. Currently, he pastors ECWA Chicago which he planted and serves as the Chairman of the ECWA USA District Church Council. Loves being a grandpa of 8 grandchildren and enjoys writing.