Psalm 150
1 Praise the Lord.[a]
Praise God in his sanctuary;
praise him in his mighty heavens.
2 Praise him for his acts of power;
praise him for his surpassing greatness.
3 Praise him with the sounding of the trumpet,
praise him with the harp and lyre,
4 praise him with timbrel and dancing,
praise him with the strings and pipe,
5 praise him with the clash of cymbals,
praise him with resounding cymbals.
6 Let everything that has breath praise the Lord.
Praise the Lord.
Footnotes
Psalm 150:1 Hebrew Hallelu Yah; also in verse 6

ECWA Choir Ilorin (Sho Ola)

1st ECWA Omu Aran Praise Medley (Official Olatommy)

The Best Praise and Worship Songs | Best Christian Music | Praise The Lord (Musics Praise)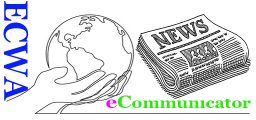 Author: eCommunicator
ECWA Editorial Board: Our editorial board or advisory board consists of a group of well published, prominent professors, with academic credentials and a detailed knowledge of their subject area.