Coronavirus damages not only the lungs, but the kidneys, liver, heart, brain and nervous system, skin and gastrointestinal tract, doctors said Friday in a review of reports about Covid-19 patients.

The team at the Columbia University Irving Medical Center in New York City — one of the hospitals flooded with patients in the spring — went through their own experiences and collected reports from other medical teams around the world.
How to Protect Yourself & Others
What to Do If You Are Sick
Their comprehensive picture shows the coronavirus attacks virtually every major system in the human body, directly damaging organs and causing the blood to clot, the heart to lose its healthy rhythm, the kidneys to shed blood and protein and the skin to erupt in rashes. It causes headaches, dizziness, muscle aches, stomach pain and other symptoms along with classic respiratory symptoms like coughing and fever.
Related Article from CNN: Pathologist found blood clots in 'almost every organ' during autopsies on Covid-19 patients.
Autopsies on people who died of the coronavirus are helping doctors understand how the disease affects the body — and one of the most remarkable findings concerned blood clotting, a pathologist says.

Dr. Amy Rapkiewicz, the chairman of the department of pathology at NYU Langone Medical Center, spoke to Erin Burnett on OutFront Thursday night.

Some Covid-19 patients are known to develop blood clotting issues, but the degree and the extent to which that occurs was described as "dramatic" by Rapkiewicz.

In the early stages of the pandemic, bedside clinicians noticed a lot of blood clotting "in lines and various large vessels," she said.

Get the latest information from the CDC about COVID-19
Coronavirus is more than just a lung infection. From the first known instance of Covid-19 nearly half a year ago in the Chinese city of Wuhan medical scientists are still learning all the ways the virus can cause harm. A research team at New York's Irving Medical Center says it has never seen so many extreme, abnormal cases. In a new study, scientists say that thromboses and pulmonary embolisms were frequently found in the deceased, something intensive care medics have already suspected. Intensive care medics from China, North America, and Europe are seeing more and more thromboses caused by blood clots. These blood clots are not just dangerous for a patient's limbs. They can break away and affect the lungs, the heart, or the brain in the form of pulmonary embolisms, heart attacks, or strokes.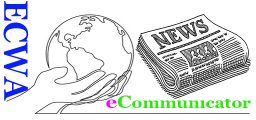 Author: eCommunicator
ECWA Editorial Board: Our editorial board or advisory board consists of a group of well published, prominent professors, with academic credentials and a detailed knowledge of their subject area.