It's a "public health train wreck in slow motion," in the words of one health expert, and the best President Donald Trump cares to offer the thousands more Americans projected to shortly die of Covid-19 is the unsubstantiated prospect of a "beautiful surprise."
The world's most powerful nation lacks a coherent national strategy to meet another cresting viral crisis, the capacity or even the willingness to take steps that might stop it.
It is also led by a man who is suggesting by his actions and attitudes that he doesn't care that much about the unfolding tragedy, writes Stephen Collinson
It's a "public health train wreck in slow motion," in the words of one health expert, and the best President Donald Trump cares to offer the thousands more Americans projected to shortly die of Covid-19 is the unsubstantiated prospect of a "beautiful surprise."
The US just hit its third highest ever peak of new coronavirus cases, multiple states are registering their own daily records and three are now taking the extraordinary step of imposing quarantines for citizens from pandemic hotspots. The world's most powerful nation lacks a coherent national strategy to meet another cresting viral crisis, the capacity or even the willingness to take steps that might stop it.
It is also led by a man who is suggesting by his actions and attitudes that he doesn't care that much about the unfolding tragedy.
Trump, who has previously predicted a "miracle" would occur or the virus would just disappear in the warmer weather, again declared falsely Wednesday that the danger had passed — even with the nation racing towards another deadly summit of infection. In his latest misleading effort to create a picture of normality, Trump welcomed Polish President Andrzej Duda to the Oval Office.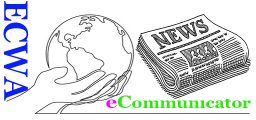 Author: eCommunicator
ECWA Editorial Board: Our editorial board or advisory board consists of a group of well published, prominent professors, with academic credentials and a detailed knowledge of their subject area.