The US Centers for Disease Control and Prevention updated guidance on its website to say coronavirus can commonly spread "through respiratory droplets or small particles, such as those in aerosols," which are produced even when a person breathes.
What you need to know
The US is nearing the grim milestone of 200,000 coronavirus deaths.
The CDC abruptly reverted to its previous guidance about how coronavirus is transmitted, after saying on Friday that coronavirus can spread through the air.
The World Health Organization warned that coronavirus cases are surging alarmingly in Europe, with infections spiking to new highs.
On Friday, the CDC posted an update on its website saying 6 feet may not be sufficient to keep people safe and that ventilation was key to easing transmission indoors. That determination could be crucial for schools where desks are now set up 6 feet apart. Offices, restaurants and even church services also could be affected by the change.
"There is growing evidence that droplets and airborne particles can remain suspended in the air and be breathed in by others, and travel distances beyond 6 feet (for example, during choir practice, in restaurants, or in fitness classes)," the agency said. "In general, indoor environments without good ventilation increase this risk."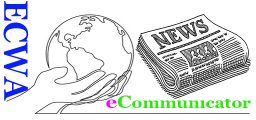 Author: eCommunicator
ECWA Editorial Board: Our editorial board or advisory board consists of a group of well published, prominent professors, with academic credentials and a detailed knowledge of their subject area.