by Rev. Henry Bello | The President implored all ECWA leaders to adhere to the ECWA theme for 2019 (Behold! I am doing a new thing. Isaiah 43:19) in their teachings. He prayed that God will certainly do new things this year for His church.
Behold! I am doing a new thing. Isaiah 43:19 (ECWA 2019 Theme)
The ECWA General Church Council (GCC) meeting for this year was held at the ECWA Headquarters Conference Hall in Jos, Nigeria from April 8th to 12th, 2019. The attendance of the DCC delegates from around the world was so overwhelming that when all the DCC representatives arrived in Jos on Monday, April 8th, the ECWA Guest House could not accommodate all the delegates; hence, other Guest Houses in the area were sought and used to host the rest of the delegates.
On Tuesday morning, April 8th at 8:00am, (starting time every day), the first formal session of the General Church Council started with Rev. Samuel Akeju giving the devotion. The three other mornings' devotional exhortations were given by Rev. Prof. Cephas Tushima, Rev. Kachuka Choms and Rev. Peter Salawu on Wednesday, Thursday and Friday respectively. The devotion on Tuesday was followed by a run through of the meeting protocols and procedures. That included a roll call which determined that all the eighty-four DCCs were in attendance.
The agenda was formally approved paving the way for the speech of the President and the report of the General Secretary. Highlights of the two presentations follows:
The president welcomed all the participants to the 66thGeneral Church Council meeting and especially the first timers like him and hoped we would all have a good time together in the presence of our Lord. He thanked everyone for doing the good job they are doing and urged all not to relent in their efforts so that ECWA will continue to excel. He was particularly delighted to see the 2 representatives (The Chairman and the Secretary) from ECWA USA DCC at the meeting. He commended the ECWA USA DCC chairman for making the trip despite the illness that prevented him from attending ECWA USA conference in July 2018 in Chicago. He said that kind of a spirit greatly encourages him and he led the congregation in a prayer of thanksgiving for ECWA USA DCC Chairman, Rev. Dr. Daniel Iselaiye.
The President implored all ECWA leaders to adhere to the ECWA theme for 2019 (Behold! I am doing a new thing. Isaiah 43:19) in their teachings. He prayed that God will certainly do new things this year for His church.
The president cautioned the DCCs against creation of non-viable DCCs. He warned that some of them already created might need to merge to make them viable. He further warned against continued creation of such DCCs, vowing that such DCCs will no longer be approved.
The president reported of the incessant killings of ECWA members and other Christians in the middle and northern parts of Nigeria. He mentioned the recent killings and jailing of our members in Southern Kaduna. He said, church in Nigeria is under siege –  Killings, kidnappings, and continuous harassment of innocent people is the order of the day.
Continued and indefinite suspension of Assistant General Secretaryof ECWA due to violations of ECWA Books regarding the ECWA Pastors Uniform Project.
Progress made at ECWA Television– now reaching 103 countries and challenged all pastors to take advantage of this wide reach. He is disappointed with our pastors because the Pentecostal churches are more eager to sponsor programs.
Proposal to establish ECWA monuments in Pategi, Bida, and Girku in memorial of the Mission work of our founding fathers, early Missionaries, and early converts.
ECWA will focus on there major areas:
Revival– Prayers, teaching and preaching
Evangelism and Missions– to the Core North, the Creeks, and Urban Church Planting, using Bingham as training ground
Holistic Missions– Revitalizing ECWA holistic Mission Arms, especially ECWA Rural Development, People Oriented Development, etc.
Approval for sale of the new ECWA constitution and bye laws
Launching of ECWA Anthem – the new ECWA anthem titled – O God be Glorified was launched. The winner (Mr. Godfrey Alphonsus) and the 2 runners up (Mr. Lukas Madugu and Mr. Avong Nehemiah) were given cash awards of N300,000.00, N200,000.00, and N100,000.00
Book Launching
The current ECWA Vice President, Rev. Dr. John Aina launched his book – Autobiography on Wednesday. While the immediate past General Secretary, Rev. Prof. Samuel Kunhiyop launched his book on witchcraft on Thursday.
Bingham University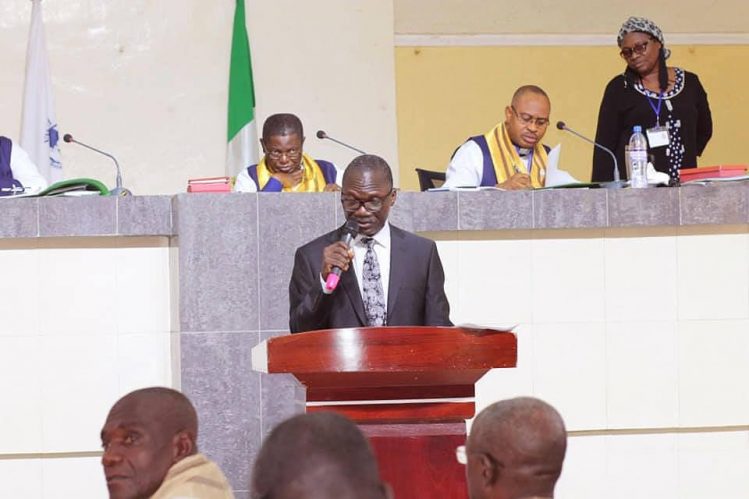 The ECWA General Secretary and the ECWA president reminded us all of our obligations to this great institution and therefore requested that all the collections for her must be promptly remitted. Although much progress has been made in the last year, more needs to be done to keep her afloat they concluded.
ECWA DCCs/ New DCCs
ECWA has 84 District Church Councils (DCCs) in Nigeria and the United States of America (USA). More districts are requesting for more DCC creations; therefore, the General Church Council has decided to form committees that will evaluate such requests. Some of the qualifications for the creation of a new DCC shall include: composition of seven Local church councils, adequate financial resources in the bank, enough staff and a secretariat. Any DCC that does not meet these requirements will be given a one-year evaluation or placed under probation to see how they will improve.
To this end, a new DCC,  Yamel-East DCC was created out of ECWA Yamel DCC while a request for creation of ECWA Gwantu DCC from Gidan Waya DCC was rejected since they did not meet the minimum recommendation above.
EMS OF ECWA
The director of EMS Rev. Simeon Yako requested for continued support and prayers.
Election of an ECWA Trustee
Mr. Moses Dembo was elected the 66th General Church Council (GCC) ECWA trustee, a longtime employee at the ECWA headquarters. Mr. Dembo replaces a longtime trustee in their zone who passed away last year. He will be sworn in to office at a ceremony at the ECWA headquarters in June.
Special Visitation
The GCC received with joy the United States of America acting Ambassador to Nigeria, Hon. David J. Young who delivered a moving speech to the council on the need for peace in Nigeria. He pledged his continued support for ECWA and other Christian organizations. The ECWA President thanked him for the visit and commended him for his peace building process across Nigeria.
ECWA USA DCC
ECWA USA Chairman, Rev. Dr. Daniel Iselaiye in his address to the council thanked the president for the rousing welcome and the special prayers for complete recovery and journey mercies for our team to Jos. The chairman told the council about the unique problems ECWA USA is facing in getting the ECWA sons and daughters to join us. He therefore implored all the DCCs and churches to inform and advise all their students coming to USA and all other visitors to USA to check in with the DCC. He further explained that most of us in ECWA USA are serving on voluntary basis – serving just because we love ECWA and not because of what we can get from her. He urged ECWA leaders to put more efforts in ensuring ECWA has a sure footing in USA and other countries. If we are to take the gospel beyond the shores of Nigeria and Africa, we must be intentional about putting programs in place so that our goals can be achieved, he concluded.
The GCC Council meeting ended on Friday April 12th, 2019 with a communique read by the ECWA President to the Nigerian press and the world.
My Recommendation
I would recommend that the Chairman, Secretary and Delegate make efforts to attend the 67th General Church Council meeting next year, 2020 because of the importance of this council.
Thank you all for your prayers and support.
The Youth Conference is July 18 – 21, 2019
ECWA Youth & Young Adults will be hosting their biennial conference in July 18 – 21, 2019. Don't miss out on this wonderful opportunity for Fellowship, Growth, & Unity. Check ECWA Youth website for more information.
Church Council Meeting
Church council meeting is this July 19 – 20, 2019. Please be punctual!
Rev. Henry Bello is ECWA USA DCC Secretary and Pastor of ECWA Church District Heights, Maryland. Pictured here is Rev. & Mrs Bello.