PRAISE & PRAYER, SEPTEMBER 2019
---
Prayer/Counseling hotline: 08033673654, 08051614880
E-mail:
prayerpromotion@emsofecwa.org
Website: www.emsofecwa.org
Brethren, pray for us (1 Thess. 5:25)
WEEK ONE – FOCUS IS ON PRAISE/THANKSGIVING
FROM HOME AND CROSS-BOARDER MISSION FIELDS
We proclaim how great you are and tell of the wonderful things you have done. (Psalm 75:1)
NOTE: EMS PRAYER AND FASTING DAY

FIRST (1ST) MONDAY OF EVERY MONTH IS TO BE OBSERVED NATIONALLY AND INTERNATIONALLY AS EMS PRAYER AND FASTING DAY. THEREFORE, ALL EMS ARMS, MISSIONARIES, OFFICE STAFF, PRAYER PARTNERS AND SUPPORTERS SHOULD PLEASE ENDEAVOR TO JOIN THE EMS INTERNATIONAL HEAD OFFICE IN PRAYERS. WE JOIN FAITH AND TRUST GOD IN ONE ACCORD WITH BRETHREN AROUND THE WORLD FOR:

A STEADY AND FRUITFUL GROWTH OF THE WORK OF MISSIONS,
PEACE AND THE SALVATION OF NATIONS,
FOR REVIVAL AND SPIRITUAL GROWTH OF THE

OUR COOPERATE PRAYER TIME AT THE HEAD OFFICE IS 8-9AM, 12-1PM, AND 3-4 PM RESPECTIVELY. YOU CAN JOIN US IN PRAYERS WHEREVER YOU MAY BE AT THOSE TIMES OR MAKE OUT TIME OF YOUR OWN CONVENIENCE AS YOU ARE LED BY GOD. PLEASE, JUST BE SURE TO PRAY ALONG AS YOU FAST.
SUNDAY 1ST
Praise God for graciously sustaining EMS as an agency, all its staff and supporters from the month of January to the 9th month of 2019; we celebrate His grace upon our lives and trust Him for more grace to enable us pull through the remaining months of the year.
MONDAY 2ND
Praise God for safety granted to EMS management staff who came for the management meeting on the 15th of August, 2019. Thank God for granting wisdom and discernment in all deliberations.
TUESDAY 3RD
Praise God for His provision of finances to EMS to pay all the office staff and field missionary allowances for the months of July and some even that of August. Praise God for His blessings on our supporters who are tirelessly giving and praying for the progress of EMS Ministry.
WEDNESDAY 4TH
Praise God for sustaining the seventeen mission stations opened as local churches in Chad Republic exactly one year ago in Gounou Ndolo, Koutoun, Bongor, Guidimi, Kolobeye, Guelende, Ambata, Ngonba, Goira, Figure 1, Djogogor, Missire, Mamina, Dagadla, Kaourang Kouzoudoum, Guelende 2 and Koundoul. Please keep praying for the spiritual and numerical growth of these churches and for the effectiveness of the missionaries in charge of these new planted churches.
THURSDAY 5TH
Praise God for the provision of funds to enable the digging of 3 boreholes in three mission stations in Chad (Domo Dissou, Leo Villi, Kaourang Tchogo). Pray for more support to enable the digging of more boreholes and wells, as water provision gives an efficient access to ministry in new places around Chad.
FRIDAY 6TH
Praise God for the progress made by our mission volunteer, George Mwila in EMS mission station Kapiri – Nposhi Central Province of Zambia. The fellowship has grown now to five committed members. Ask the Lord to sustain them and bring growth to the church.
SATURDAY 7TH
Praise God for the peace in The Gambia, since after the new Government took over; Praise God for His presence that is being felt among the people our missionaries are working with and for the freedom the missionaries have for preaching the Word of God in The Gambia.
WEEK TWO – FOCUS IS ON EMS HOME MISSION FIELDS

Therefore they spent a long time there speaking boldly with reliance upon the Lord, who was testifying to the word of His grace, granting that signs and wonders be done by their hands.

Acts 14:3
SUNDAY 8TH
EMS ADMINISTRATIVE HEAD OFFICE Pray for EMS Director Rev. Simon Yako and other Administrative staff who are on their annual leave; ask the Lord to enable them rest and to also grant them safety as they travel during their leave.
MONDAY 9TH
EMS BOARD MEMBERS Pray that The Lord will Help EMS BOARD MEMBERS to approach issues with an open and inquiring mind, free from prejudice, and with their spirit depending on His grace for the strength to make hard decisions.
TUESDAY 10TH
EMS SUPPORTERS Pray that God will help all EMS Supporters to enjoy doing their work of supporting EMS in prayers and giving; pray that they always remember His promise in Luke 6:38, "Give, and it shall be given unto you; good measure, pressed down, and shaken together, and running over, shall men give into your bosom. For with the same measure that ye mete withal it shall be measured to you again". (KJV)
WEDNESDAY 11TH
ECWA EXECUTIVES (EE) Pray that the Lord will give the EE listening and discerning ears; to first of all be able to hear God, to know when and to whom they should listen to. Ask that God will always help them to use their own gifting to promote thorough and thoughtful discussions of important concerns in ECWA.
THURSDAY 12TH
ECWA MINISTERS/STAKEHOLDERS
Ask that the Lord will raise selfless shepherds for His people!
Ask that the Lord will destroy the spirit of arrogance and self-centered aspiration among some ECWA pastors and
Pray that He remove the spirit of greed that is eating at the heart of our churches today. May our churches be known for being God's hand in our communities
FRIDAY 13TH
SOUTH EAST REGION
Pray for more of God's provision for the completion of the church roofing in Ishiagu mission
Let's continue to seek the Lord to stir the hearts of many in this region to be willing to support the work of
Ask the Lord to grant an opening for the provision of bikes for mission stations in need of mobility within the South East
SATURDAY 14TH
FAR NORTH WEST REGION One of our missionaries by name Matthew Moses at Tagwabawa lost his nine year old daughter on 25/07/2019. Let' pray for comfort. Note! At this same station we lost two of our missionaries named Umaru Magaji and Inusa Kado. And prior to the incident of his daughter, he had accident. The missionaries in Katsina DCC are planning for a weekend programme in this station purposely for prayers against all evil attacks of the enemy kindly pray along.
WEEK THREE – FOCUS IS ON EMS HOME MISSION FIELDS

"And now, Lord, take note of their threats, and grant that Your bond-servants may speak Your word with all confidence." Acts 4:29
SUNDAY 15TH
EMS MISSIONARIES GENERALLY
Pray for God's strength and comfort for EMS missionaries whose family members have suffered serious illnesses and tragedies recently?
Pray for the comfort of the Holy Spirit upon EMS missionaries who lose their loved ones while far away from
Pray for a hedge of God's protection around EMS missionaries serving in difficult and sensitive parts of the
MONDAY 16TH
FAR NORTH WEST REGION – KEBBI Ask the Lord to perfect the ongoing plans to wean and hand over five (5) mission stations to Kebbi DCC before the year runs out.
TUESDAY 17TH
SOUTH – EAST REGION Pray for the salvation of Mr. A. Salihu who joined EMS Literacy Training in one of the mission stations in this region. Also pray for many other seekers of faith that the Lord will reveal Himself to them.
WEDNESDAY 18TH
ECWA TELEVISION MINISTRY
Pray for Eng. Tony Nakale, the E.TV MD for God's wisdom as he leads the Television
Pray for all the staff who serve in the Television Ministry that they would realize the significance of their role in sharing the Gospel through the medium of Television
Pray over the equipment, that they would work properly and be effective in preparing and broadcasting the services.
Pray that the Holy Spirit would work through each broadcast to touch the lives of those who are watching.
THURSDAY 19TH
EMS WIDOWS/WIDOWERS
Pray for God's protection and provisions for EMS Widows and Widowers. Pray also that God will deliver them from all forms of temptations.
FRIDAY 20TH
MISSIONARY KIDS AROUND THE WORLD In line with 2 Timothy 2:22 ("Flee the evil desires of youth, and pursue righteousness, faith, love and peace, along with those who call on the Lord out of a pure heart") Pray that Missionary Kids would flee from evil desires and pursue righteousness, faith, love, and peace, enjoying the company of other children in mission fields who call on the Lord and have pure hearts.
SATURDAY 21ST
EMS CHILDREN AND FIELD MISSION SCHOOLS Let's not relent on praying for Gods divine intervention over water shortage experienced in our missionary children schools in Jos, in Kufana and in Lakweme.
There is an urgent need for missionary teachers in our mission field schools, Maje, Boko, Fali Makeri, and Pray that God will open door for supporters in order to recruit more missionary teachers.
Ask the Lord to grant excellent spirit to pupils and students in all our mission field schools and our Missionary children schools especially as they have commenced the 2019/2020 academic
WEEK FOUR: FOCUS ON CROSS-BORDERS MISSION FIELDS
"And he entered the synagogue and continued speaking out boldly for three months, reasoning and persuading them about the kingdom of God." Acts 19:8
Sunday 22ND
CROSS BORDERS CRITICAL NEED
EMS is still trusting God for the sum of about N854M that is urgently needed for various critical Cross Borders Projects. Let's not relent in praying for this need.
Monday 23RD
BURKINA FASO
ECWA 1 Ouagadougou in Burkina Faso is in dire need of a worship place outside the house they are using, pray for God to provide 300, 000F (N249, 000) for the construction of a Church
Considering the growth of the Ministry in Burkina Faso mission fields, there is an urgent need to engage at least 3 Nationals for the progress of the work. Do pray for God's provision towards meeting this pressing
TUESDAY 24TH
ECWA KENYA The Mission Field School in Kenya is enjoying the influx of many more pupils; Praise God for the Favor he has granted the church before the community. Pray that these children, especially the ones who are not believers, will encounter the Lord in this school.
WEDNESDAY 25TH
ECWA CHAD REPUBLIC
Let's keep praying for the forty-nine (49) Chadians Missionaries working in Chad Republic, with quite a number of ECWA Churches planted. Ask the Lord to grant leadership wisdom to the ECWA church leadership in CHAD REPUBLIC.
THURSDAY 26TH
ECWA REPUBLIC OF GHANA Ask the Lord to grant perfect healing to the mother of our missionary Rev. John Tortuman back in Nigeria.
Pray for the progress of the churches in both southern and northern Ghana. There are issues of land that are not yet resolved; ask the Lord to intervene in the
Pray for the ECWA Mission School that is run by & Mrs. Tortuman; ask the Lord to give them the wisdom and the funds to make the school impactful to the community.
FRIDAY 27TH
ECWA NIGER REPUBLIC Pray for our missionaries in Niger Republic to be faithful, focused and committed in their duty posts as missionaries.
Pray for the completion of the registration of ECWA Niger Republic with the government.
SATURDAY 28TH
ECWA CHAD REPUBLIC Praise God for grace on the missionaries who started 6 new mission stations in the northern part of Chad Republic. Pray for the progress of these 6 new mission fields started among those unreached ethnic groups. Pray for God's provision for the support of the missionaries working in those locations, also pray that the residents of these locations will be open and receptive to the gospel of Jesus.
SUNDAY 29TH
THE GAMBIA Pray for God's provision towards the challenge of places of worship in most of the Gambian new stations of ministry. Also pray for financial opening to enable us develop the church lands in Darsilami, Soma, and Jidda.
MONDAY 30TH
ECWA TOGO The church building project in Kaboli is still pending due to financial challenges. Pray for God's provision of the total sum of (N2, 000,000.00) to enable us embark on this building project.
Pray for God to provide at least 5 motorcycles that are urgently needed for the missionaries that are working in the interior parts of Togo to enable them run their work effectively.
Let's keep Praying for God's providence to be able to acquire church lands in the following locations: Zanguera (N 7.5m), Notse (N3m), Pagouda (N400, 000,) and University (N20m).
Thank you for praying with us through the month of September 2019. May the lord renew your strength and also increase upon you grace as you continue with us in this partnership. Shalom!!!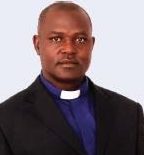 Author: Rev. Simon Yako
Rev. Simon Yako is the EMS of ECWA Director. Rev. and Mrs. Simon Yako were the first couple to be sent to Togo, both graduates of Jos ECWA Theological Seminary (JETS). They both started work with EMS of ECWA as volunteer workers in 1985, and were formally engaged as EMS Missionaries three years later on July 6th 1988. On their initial engagement, they were sent to a home Mission in Ibil, Cross Rivers State in Nigeria.