Website: www.emsofecwa.org
Brethren, pray for us (1 Thess. 5:25)
WEEK ONE – FOCUS IS ON PRAISE/THANKSGIVING
FROM HOME AND CROSS-BOARDER MISSION FIELDS
"Give unto the Lord the Glory due unto His Name; worship the lord in the beauty of his holiness" (Ps.29:2)
 FRIDAY 1ST
Praise God for sustaining EMS from January to this eleventh month; praise Him for protection and provision for missionaries and, for safety in travels within and outside the country. 
SATURDAY 2ND
Praise the Lord for the success of Programs held in the month of October by EMS missionaries in various mission Fields across the country and abroad. Worship Him for the bountiful Harvest of Souls recorded through these Programs. 
SUNDAY 3RD
Praise God for the community nursery and primary school that was handed over to EMS by the Oseni community in Mid Central Region for proper running. Ask the Lord to grant EMS grace to manage the school holistically and to provide godly, creative teachers to run the school. 
NOTE: EMS PRAYER AND FASTING DAY THE AROMA OF PRAYER 

FIRST (1ST) MONDAY OF EVERY MONTH IS TO BE OBSERVED NATIONALLY AND INTERNATIONALLY AS EMS PRAYER AND FASTING DAY. THEREFORE, ALL EMS ARMS, MISSIONARIES, OFFICE STAFF, PRAYER PARTNERS AND SUPPORTERS SHOULD PLEASE ENDEAVOR TO JOIN THE EMS INTERNATIONAL HEAD OFFICE IN PRAYERS. WE JOIN FAITH AND TRUST GOD IN ONE ACCORD WITH BRETHREN AROUND THE WORLD FOR: 

A STEADY AND FRUITFUL GROWTH OF THE WORK OF MISSIONS,

 

PEACE AND THE SALVATION OF NATIONS,

 

FOR REVIVAL AND SPIRITUAL GROWTH OF THE CHURCH.

 

OUR COOPERATE PRAYER TIME AT THE HEAD OFFICE IS 8-9AM, 12-1PM, AND 3-4 PM RESPECTIVELY. YOU CAN JOIN US IN PRAYERS WHEREVER YOU MAY BE AT THOSE TIMES OR MAKE OUT TIME OF YOUR OWN CONVENIENCE AS YOU ARE LED BY GOD. PLEASE, JUST BE SURE TO PRAY ALONG AS YOU FAST. 
MONDAY 4TH
Praise God for EMS mission stations that are weaned this year. Ask the Lord to sustain these churches and enable them to be missionary-sending and supporting churches after been weaned. 
Praise God for saving our missionary Rev. Thomas Bala in Gidan Labbo Katari Dee from kidnappers.

 
TUESDAY 5TH
Praise God for the success of the second EMS collections' Sunday. Pray for God's grace on all church leaders and stack holders for faithful remittance of funds for the purpose of missions at home and abroad . 
WEDNESDAY 6TH
Praise God for the smooth take off of the new secondary/ vocational school (Leadership training Academy LTA) for the EMS house of hope Boys Transition House Laminago (Nkwis); and for the new secondary/ vocational school for EMS house of hope Girls transition house Bassa. 2 
THURSDAY 7TH
Praise God for the donation of a tractor to EMS through its ministry to destitute and street children program (House of Hope). This amazing gift was donated to help EMS enhance its farming program towards improving our food provision for our school children and orphans. 
FRIDAY 8TH
Praise God for a successful joined Sunday service the churches in Zambia had, three churches came together to have a joined fellowship (the Kitwe church, the Mufurila church visited and another Kitwe branch). 
Thankful to God for the effort of women who have stepped out to bring about the progress of women ministry in Zambia.

 
SATURDAY 9TH
Praise God for adding to the number of ECWA church Kenya; pray for their spiritual growth of these new believers in Jesus name. 
WEEK TWO – FOCUS IS ON EMS HOME MISSION FIELDS 

"…Put ye the sickle, because the harvest is come" 

Mark 4:29 
SUNDAY 10TH EMS ADMINISTRATIVE HEAD OFFICE
Ask that God will grant satisfaction and joy to all EMS workers in the performance of their duties this month. 
MONDAY 11TH ECWA EXECUTIVES (EE)
Ask the Lord to help them prove faithful with the things He entrusted to them. Pray that He Teach them His ways daily so that they know Him even the more and find favor with Him as they leads us. Pray that God should keep them open and honest before Him and help them to represent the truth plainly. 
TUESDAY 12TH EMS BOARD MEMBERS
Praise God for the servant heart of EMS BOARD MEMBERS. Ask that He keep them from losing heart when ministry demands gets tough. Ask that the Holy Spirit reveal the Father's heart as regards His will for EMS during their tenure to enable them advice EMS rightly. 
WEDNESDAY 13TH EMS SUPPORTERS
Ask the Lord to grant open doors for many who pledge to support EMS to fulfill their pledges. 
THURSDAY 14TH NORTH CENTRAL REGION -JOS
Pray the success of the weddings of 6 of our missionaries in this region. 
FRIDAY 15TH SOUTH NORTH EAST REGION
Pray for the success of the Yamel DCC mission conference that commenced today; ask the Lord to grant safety to all missionaries that will be in attendance and for the resources persons for unction to deliver the messages powerfully. 
SATURDAY 16TH EMS MEDICAL UNIT
Ask the Lord to grant speedy healing to Mrs. Adamu, the wife of our missionary in the far North West Region; Rev. Samaila Wambai, and Mrs. Bullus Mayau who has been suffering for the past two years (mental problem). 
WEEK THREE – FOCUS IS ON EMS HOME MISSION FIELDS 

"And now, Lord… grant that your bond-servants may speak your word with all confidence." 

Acts 4:29
SUNDAY 17TH CITY MINISTRY OF EMS
We are trusting God for fund to renovate the former Boys transition house. Algadama for women ministry (Prolife ministry). 
Ask the Lord to grant openings for the provision of the about N20, 000, OOO.00 for 2020 grains forthe kids including Christmas Shopping and parties for the kids.
Ask the Lord to grant openings for provision of scholarship for the kids we are caring for to enablethem study in tertiary institutions.
Ask the Lord to stir up and bring fort God fearing foster parents with the heart of Ministry to partnerwith us by adopting and fostering some of the kids we are careering for.
MONDAY 18TH EMS RETREAT CENTER RHIZHA
Ask the Lord to grant favor, safety to the Less as they travel to USA and Korea to rest and to mobilize for support for their ministry in Nigeria. 
Pray for Rev. Jafun Samaila that he be granted wisdom as he works with the Center as its newcoordinator.
TUESDAY 19TH EMS MISSIONARY KIDS/MISSION FIELDS SCHOOLS
We are in dire need of more professional missionary teachers in our schools, pray that God will raise more supporters and teachers who will meet this need. 
WEDNESDAY 20TH SOUTH EAST REGION
Ask that the Lord will grant open doors for finances and building materials for the building projects on our mission land at Ntezi mission field in the south east region which is to be used for a prayer center and missionaries camping ground. 
THURSDAY 21ST NORTH WEST REGION-KADUNA
Praise God for ministry of ECWA English Service Sabon Tasha Kaduna who gave out two new Motorcycles to Pas. Ahmed Tata and Livinus Bitrus all in Kasuwan Magani DCC to enhance their ministry work in their mission fields. 
FRIDAY 22 EMS SECURITY PERSONNEL
Considering the increased security threat posed to Christian organizations, especially in this last quarter of the year, pray for our security personnel, that they would be vigilant, diligent, and sensitive to any threats to EMS staff and facilities. 
SATURDAY 23RD EMS TRAVEL UNIT
Ask the Lord to guide and protect EMS drivers from accidents and keep them free from harm on their journeys especially in this last quarter of the year. Pray that He would support them with His grace when they are tired and also help them to be patient in any trouble which may come their way. Ask that He keep them always mindful of His presence and love. 
WEEK FOUR: FOCUS ON CROSS-BORDERS MISSION FIELDS 

"And he entered the synagogue and continued speaking out boldly for three months, reasoning and persuading them about the kingdom of God." Acts 19:8 
SUNDAY 24TH CROSS BORDERS CRITICAL NEED
EMS is still trusting God for the sum of about N854M that is urgently needed for various critical Cross Borders Projects. Let's not relent in praying for this need. 
MONDAY 25TH
Pray that God will raise a harvest work force of missionaries that have a genuine calling for cross Border Work. Pray for the breaking forth of revival on our Cross Borders Fields.
TUESDAY 26TH ECWA KENYA
Ask the Lord to grant provision of a land space for a church and school building in ECWA Kenya Mission field. 
Pray for God's provision of a school van for ECWA Kenya Mission fields school
Pray for the safety of Christian education department who are travelling to Kenya for the orientationof the church members in Kenya.
WEDNESDAY 27TH ECWA GHANA
Praise God for the enabling grace on the missionaries in Ghana to start a new mission station at ZuoVillage in Mr. Adams house in Tamale. Ask the Lord to sustain this young church.
Pray for the church in Zenu that is struggling with a place of worship for God's intervention andprovision.
Pray for the provision of motorcycles for ministry work in Ghana field to facilitate the progress of THEMINISTRY WORK IN THE FIELD.
THURSDAY 28TH ECWA ZAMBIA 
Pray for Zambia, some parts of the country was affected by drought and that has caused the rise ofessential commodities in the markets. Cost of living is sharply rising.
Pray for a stable rain in Zambia this year in order to overcome the effect of the drought in 2018/19farming season.
Pray for the two important events coming up in ECWA Zambia before the end of the year, conferenceof our mission stations and the youth's musical concert.
Pray for both the spiritual and physical growth of all ECWA churches in Zambia.
FRIDAY 29TH THE GAMBIA
Praise God for the favor He granted our missionary Rev. Turba by which an organization hasoffered to support EMS mission project of Building churches in the Gambia.
Pray for God's grace and for the success of three Gambias missionaries presently schooling atECWA Theological Seminary Kagoro in Nigeria.
SATURDAY 30TH ECWA TOGO
Let's keep Praying for God's providence for EMS of ECWA Togo field to be able to acquire churchlands in these mission fields: Zanguera N 7.5m, Notse N3m, Pagouda N400, 000, University N20mthese places are main towns that are in dire need the gospel.
Pray for God's provision towards the purchase of at least 5 motorcycles for missionaries that areworking in the interiors for the progress of mission work.
Let's keep Praying for God to provide money to acquire a land for ECWA Togo headquarters. Twohectares of land for ECWA HEADQUARTERS OF TOGO OFFICE will cost us about five million naira only(N 5,000,000.00) in Sokode.
Thank you for praying with us through the month of November 2019. May the Lord renew your strength and also increase upon you grace as you continue with us in this partnership. Shalom!!!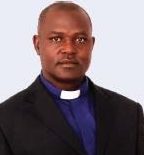 Author: Rev. Simon Yako
Rev. Simon Yako is the EMS of ECWA Director. Rev. and Mrs. Simon Yako were the first couple to be sent to Togo, both graduates of Jos ECWA Theological Seminary (JETS). They both started work with EMS of ECWA as volunteer workers in 1985, and were formally engaged as EMS Missionaries three years later on July 6th 1988. On their initial engagement, they were sent to a home Mission in Ibil, Cross Rivers State in Nigeria.