Website: www.emsofecwa.org
Prayer/Counseling hotlines: 08033673654, 09050050539
E-mail: prayerpromotion@emsofecwa.org
---
Brethren, pray for us (1 Thess. 5:25)
WEEK ONE – FOCUS IS ON PRAISE/THANKSGIVING
FROM HOME AND CROSS-BOARDER MISSION FIELDS
Then I will purify the lips of the peoples, that all of them may call on the name of the Lord and serve him shoulder to shoulder. Zephaniah 3:9(NIV)
THURSDAY 1ST Thank God for his love, provision, guidance and grace upon us through the month of September and for the privilege to serve him in the new month of October. Ask the Lord to continue to direct us to do his will always.
FRIDAY 2ND Thank God for the successful completion and commissioning of the solar powered water project undertaken by TASTE in EMS Children School Jos. The project is indeed an answered prayer because the school has for long suffered water shortage especially during the dry season.
SATURDAY 3RD Appreciate the Lord for his provision of motorcycles to our missionaries for effective ministry. Shiroro DCC procured a brand new motorcycle for the EMS coordinator, similarly, Rev. Emmanuel Isaiah and Pastor Yunana Etsu in Suleja DCC have both received donations of a motorcycle each from their supporters, ECWA Goodnews Nyanya and ECWA 1 Nyanya in Garki DCC. To God be the glory.
SUNDAY 4TH Praise God for saving the life of our missionary, Rev. Yohanna Agushi in Mangu DCC, he was knocked under a slow moving trailer by a fast moving vehicle but the driver of the trailer applied automatic brake and the missionary's life was saved and a tragedy was averted.
NOTE: FIRST (1ST) MONDAY OF EVERY MONTH IS OBSERVED NATIONALLY AND INTERNATIONALLY AS EMS PRAYER AND FASTING DAY. THEREFORE, ALL EMS ARMS, MISSIONARIES, OFFICE STAFF, PRAYER PARTNERS AND SUPPORTERS SHOULD PLEASE ENDEAVOR TO JOIN THE EMS INTERNATIONAL HEAD OFFICE IN PRAYERS. WE JOIN FAITH AND TRUST GOD IN ONE ACCORD WITH BRETHREN AROUND THE WORLD FOR;

A STEADY AND FRUITFUL GROWTH OF THE WORK OF MISSIONS,
PEACE AND THE SALVATION OF NATIONS AND
FOR REVIVAL AND SPIRITUAL GROWTH OF THE CHURCH.

OUR COOPERATE PRAYER TIME AT THE HEAD OFFICE IS 8-9AM, 12-1PM, AND 3-4 PM RESPECTIVELY. YOU CAN JOIN US IN PRAYERS WHEREVER YOU MAY BE AT THOSE TIMES OR MAKE OUT TIME OF YOUR OWN CONVENIENCE AS YOU ARE LED BY GOD. PLEASE, JUST BE SURE TO PRAY AND FAST
MONDAY 5TH Praise the Lord for the synergy and strong relationship between ECWA the ministry of SIM, the Lord used SIM to meet some very important needs of constructing two new church buildings in Sharboyi and Gala in Kano DCC. To God be the glory.
TUESDAY6TH PraisetheLordforadditionalnewsupportersofEMS,wehaveanadditionalnewsupporterfrom Pyakasa DCC. The Women fellowship of Abolo LCC in Kaffi DCC have also pledged half support of a missionary. Ask the Lord to bless their efforts and reward them abundantly according to his riches in glory.
WEDNESDAY 7TH Thank God for using the ECWA president Rev. Stephen Baba Panya to assist a missionary family from Mali on training in Nigeria with the sum of ₦50, 000. EMS head office also disbursed funds to offset the AGEMPEM annual contribution for 2019 and 2020 to the glory of God.
WEEK TWO – FOCUS IS ON EMS HOME MISSION FIELDS
Hear my prayer, Lord; let my cry for help come to you. Do not hide your face from me when I am in distress. Turn your ear to me; when I call, answer me quickly. Psalm 102: 1-3 (NIV)
THURSDAY 8TH EMS MANAGEMENT: Pray for the management of EMS of ECWA, for more wisdom, grace and good health from the Lord as they take important decisions and lead the organization to fulfill the divine mandate of the Great Commission of propagating the gospel of Jesus Christ for the salvation of all.
FRIDAY 9TH EMS SCHOOLS: Pray for the staff and students/pupils of all EMS Schools for good health wisdom and understanding especially for the final year students who are currently engaged in academic activities and awaiting their final exams at the Primary and Junior Secondary School levels. Pray for God's healing upon some of the staff with health challenges.
SATURDAY 10TH MID EAST REGION: Pray for comfort to Alage LCC in Lafia DCC, where six people died as a result of lightning strike on their way back from the farm. Our missionaries in the region are in need of motorcycles for effective ministry, ask the Lord to open doors for funds to meet this needs as well as other building projects in some mission stations.
SUNDAY 11TH FAR NORTH REGION: Praise the Lord for our supporters in this region God has been using them greatly, ask the Lord to bless them abundantly. Pray for two EMS stations, Dansarai, where the church building collapsed and Gidan Mato in Dabai where the church building as well as the pastor's house collapsed due to flooding in the area. Ask the Lord to open doors for them to rebuild through his mighty power.
MONDAY 12TH MID-CENTRAL REGION Thank God for the sufficient grace he has given our missionaries in the region to fulfill the divine mandate despite mounting challenges especially the constant attacks by Fulani militias, over 600 people were witnessed to and 59 gave their lives to Christ while 54 rededicated their lives for God. Ask the Lord to uphold them in the faith.
TUESDAY 13TH MID-CENTRAL REGION: Zonzon DCC, has been greatly affected by the crises in Southern Kaduna with 83 lives lost, 44 people injured and over 166 houses destroyed. Three LCCs in the DCC that have been seriously affected, they are in need of food stuff, clothing, bedding, building and roofing materials and any other thing that might be useful to them now, ask the Lord to touch hearts of people who will donate in cash and kind to meet the needs of these people who are in dire straits.
WEDNESDAY 14TH SOUTH NORTH WEST: Appreciate God for the release of some members of Item Prayer House by their abductors, 21 of them were released after a ransom was paid, pray for the release of one person who is still in the hands of the kidnappers. Praise God for healing the EMS coordinator of Panda DCC and some of our missionaries in the region who were down with one ailment or the other.
WEEK THREE – FOCUS IS ON EMS HOME MISSION FIELDS

I will shake all nations, and what is desired by all nations will come, and I will fill this house with glory,' says the Lord Almighty. The silver is mine and the gold is mine declares the Lord Almighty Haggai 2:8-9(NIV)
THURSDAY 15TH EMS MEDICAL UNIT: Thank God for the provision of a means of mobility, a very critical need to the EMS Clinic in Gwada by the EMS head office. Ask the Lord to heal some of our missionaries who are sick and hospitalized.
FRIDAY 16TH FAR NORTH WEST REGION: Pray for God's protection to our missionaries in the region who are in danger of being attacked or kidnapped by bandits and kidnappers, some had to leave their homes due to these threats. Pray for God's provision to roof three mission field churches that were built recently and for more supporters for the region who will give for the progress of missions.
SATURDAY 17TH NORTH EAST REGION: Pray God's wisdom, protection, guidance and provision to all our missionaries and supporters in the region. Our missionary pastor Salisu Hassan has gone to be with the Lord, ask God for comfort and sustenance to the family he left behind and for comfort to the entire region as well. Pray for open doors for funds to provide 10 motorcycles to our missionaries for effective ministry in the region.
SUNDAY 18TH NORTH WEST REGION: Thank God for the release of our missionary, Rev. Iliya K. Mamuda, the Lord answered the prayers of the brethren. He has since returned to his station. To God be the glory. Ask the Lord to stretch forth his healing hands upon our missionaries or their family members who are battling with various health challenges and protect them from all harm and danger in their various mission field stations.
MONDAY 19TH CENTRAL REGION: Thank God for healing to our missionaries in Shiroro DCC, Rev. Yakubu Ingila and Pastor Bartholomew. Pray for some of our missionaries and some members of their families who are suffering from illnesses and for comfort to those that have been bereaved of their loved ones. Pray for Pastor Iliya Yahaya of Gyigyi Prayer House in Minna DCC who is working in the midst of Muslims and is facing a lot of challenges because he got a new convert. Pray that God will encourage him as well as the new convert and the for light of God's salvation will continue to shine through the entire community.
TUESDAY 20TH SOUTH NORTH EAST REGION: Praise the Lord for the return of normalcy to Southern Taraba after a period of turmoil. Pray for our supporters in this region who are finding it very difficult to remit their support, that God will bless and open doors for them even where there are none so that they will be able to meet up to their obligation. Pray for healing to the children of our missionaries, Pastor Julius Daiya child and Pastor Feson Tasha daughter have been ill for some time, ask God to stretch his healing hand upon them and heal them through his mighty power.
WEDNESDAY 21ST NORTH CENTRAL: Three field stations; Siri Zurfu, Siri Babba and Iraki all in Bauchi DCC arein urgent need of funds to the tune of ₦420,000 to enable them rebuild their churches that were destroyed by flooding. Ask the Lord to open doors for funds to the tune of ₦1.8 million needed to buy a piece of land for Ndar Prayer House within the Plateau State University Bokkos in Gwol DCC for the construction of a chapel.
THURSDAY 22ND SOUTH EAST REGION: Praise the Lord for providing a place of worship at Lokpanta and for the success of the seminar tagged "God's plan for his church". Pray for provision for five motorcycles for our missionaries in the region to enhance their efforts of spreading the gospel.
Pray for much needed support for the EMS head office to be able to dispatch seven missionaries to bolster the work of missions in the region. Pray for wisdom grace and provisions to our new missionary pastor Habibu Maikafi posted to Afikpo, ask the Lord to lead him into his will always.
WEEK FOUR: FOCUS ON CROSS-BORDERS MISSION FIELDS

He tends his flock like a shepherd: He gathers the lambs in his arms and carries them close to his heart; he gently leads those that have young. Isaiah 40:11 (NIV).
FRIDAY 23RD CROSS BORDERS CRITICAL NEEDS: We are still trusting God for the sum of N854M that is urgently needed for various critical Cross Borders Projects. Let's not relent in praying that God will open doors to raise the funds that will meet these needs.
SATURDAY 24TH BENIN REPUBLIC: Thank God for his divine protection and provision for our missionaries in Benin Republic and for the safe delivery of Mrs. Jacob Ngabe. Ask the Lord to open doors for funds to procure a plot of land for the Porto Novo field that will be free of problems. Pray that the disciples in Benin whom our missionaries are trusting God to graduate very soon will do great exploits for the kingdom of God.
SUNDAY 25TH GHANA: The EMS of ECWA Ghana mission field is faced with the challenge of registration renewal pray for God's intervention to make the process hitch-free. Pray for open doors of support for the Ribina's to raise a structure on the donated church land for worship in the Muslim community.
MONDAY 26TH MALI: Appreciate God for divine healing to the daughter of Rev. and Mrs. Solomon V. Iliya who had been mentally challenged for some time. Pray for continuous support for the progress of the ECWA Mali permanent site in Kobala Coura, Baguineda Mali. We trust God for the last payment of ₦2.5 million from the EMS head office to complete this phase of the project. Pray that the civil unrest in Mali will not escalate any further and for the restoration of peace to the country.
TUESDAY 27TH MALAWI: Appreciate the Lord for his healing upon Mrs. Mamman who was down due to ill- health for a period of time. The Lord provided for the Mammans to enable them embark on a mission trip they had been trusting God for, and the said trip was a success to the glory of God. Pray for the church in Midima turn off, Malawi to be able to settle payments for the land upon which the church is built.
WEDNESDAY 28TH MALAWI: The Mammans are still trusting God for funds to purchase white boards to teachliteracy classes to adults and children as well, this will cost about 160,000 Kwacha which equivalent to ₦80,000 as well as 10, 000,000 Kwacha equivalent to ₦5 million ask the Lord to open doors for these needs to be met through his mighty power.
THURSDAY 29TH ZAMBIA: Praise the Lord for the progress of the church in Ndola, they have increased to over 120 members, the youths are identifying with the church in Kitwe to the glory of God. Ask the Lord to continue to uphold them to stand strong and firm and bear his testimony, so that others will see the light shining through them and give their lives to Christ as well. Ask God the Lord to give Sukulanda Victor and Godson Mwelwa, two volunteers with the Ndola church more strength as they serve in his vineyard.
FRIDAY 30TH GAMBIA: Pray for open doors for funds to enable ECWA Church Bantiyama raise a shelter to be used for worship. The church currently worships under a tree, ECWA Sukuta as well does not have a place for worship. Ask the Lord to make a way to meet these needs through his mighty power.
SATURDAY 31TH GAMBIA: ECWA Academy, Old Yudum is planning and trusting God to raise a temporary structure of a one classroom block. There is another plan to start a new Nursery School in Brikama soon. Ask the Lord for open doors to implement these project.
THANK YOU FOR JOINING US IN PRAYER THROUGH THE EIGHTH MONTH OF THE YEAR 2020. MAY THE LORD RENEW YOUR STRENGTH AND ALSO INCREASE UPON YOU GRACE AS YOU CONTINUE WITH US IN THIS PARTNERSHIP. SHALOM!!!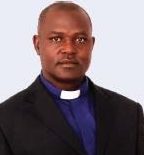 Author: Rev. Simon Yako
Rev. Simon Yako is the EMS of ECWA Director. Rev. and Mrs. Simon Yako were the first couple to be sent to Togo, both graduates of Jos ECWA Theological Seminary (JETS). They both started work with EMS of ECWA as volunteer workers in 1985, and were formally engaged as EMS Missionaries three years later on July 6th 1988. On their initial engagement, they were sent to a home Mission in Ibil, Cross Rivers State in Nigeria.