Website: www.emsofecwa.org
Prayer/Counseling hotlines: 08033673654, 09050050539
E-mail: prayerpromotion@emsofecwa.org
---
Brethren, pray for us (1 Thess. 5:25)
WEEK ONE – FOCUS IS ON PRAISE/THANKSGIVING
FROM HOME AND CROSS-BOARDER MISSION FIELDS
Enter his gates with thanksgiving and his courts with praise; give thanks to him and praise his name Psalm100:4 (NIV)
SATURDAY 1ST Thank God for his love and mercies upon us, He has seen us through the month of July and ushered us into August, pray that the Holy Spirit will lead us to do God's will even as we serve him with our lives to the glory and honour of his name.
SUNDAY 2ND Appreciate the Lord for his provision, ECWA Women Fellowship Gombe DCC has donated a bag of grain and other materials to each of our missionaries in the DCC. Ask the Lord to bless them continually for the good work they are doing
NOTE FIRST (1ST) MONDAY OF EVERY MONTH IS OBSERVED NATIONALLY AND INTERNATIONALLY AS EMS PRAYER AND FASTING DAY. THEREFORE, ALL EMS ARMS, MISSIONARIES, OFFICE STAFF, PRAYER PARTNERS AND SUPPORTERS SHOULD PLEASE ENDEAVOR TO JOIN THE EMS INTERNATIONAL HEAD OFFICE IN PRAYERS. WE JOIN FAITH AND TRUST GOD IN ONE ACCORD WITH BRETHREN AROUND THE WORLD FOR;

A STEADY AND FRUITFUL GROWTH OF THE WORK OF MISSIONS,  PEACE AND THE SALVATION OF NATIONS AND
FOR REVIVAL AND SPIRITUAL GROWTH OF THE CHURCH.

OUR COOPERATE PRAYER TIME AT THE HEAD OFFICE IS 8-9AM, 12-1PM, AND 3-4 PM RESPECTIVELY. YOU CAN JOIN US IN PRAYERS WHEREVER YOU MAY BE AT THOSE TIMES OR MAKE OUT TIME OF YOUR OWN CONVENIENCE AS YOU ARE LED BY GOD. PLEASE, JUST BE SURE TO PRAY AND FAST.
MONDAY 3RD Praise be to God! the leadership of EMS has procured Personal Protective Equipment for the use of all EMS medical staff in the discharge of their duties. This will go a long way to help protect them as they deal with patients especially in this time of Coronavirus pandemic.
TUESDAY 4TH Appreciate the Lord for his blessings, he has used the chairman of Damakasuwa DCC and 1st ECWA church Damakasuwa to buy a house costing N400, 000 (four hundred thousand) for Magul Prayer House in Damakasuwa DCC. To God be the glory!
WEDNESDAY 5TH Thank God for his provisions, the Lord touched the hearts of some members who contributed money and purchased a brand new motorcycle for the coordinator of Bwari DCC. Ask the Lord to bless them continually as they support the work of missions.
THURSDAY 6TH Praise the Lord for one additional new supporter to the South North-West Region from Fadan Kagoma DCC, ask the Lord to bless them abundantly and sustain their support for the work of missions through EMS.
FRIDAY 7TH Praise God for his provision, sustenance and protection to all our all our missionaries across borders, thank him for the progress of the theological school in Togo. Pray that the school will continue to grow from strength to strength to the glory of his name
WEEK TWO FOCUS IS ON EMS HOME MISSION FIELDS

Lord you are the God who saves me; day and night I cry out to you. May my prayers come before you; turn your ear to my cry Psalm 88:1-2(NIV)
SATURDAY 8TH EMS MANAGEMENT Pray for the management of EMS of ECWA, for more wisdom, grace and good health from the Lord as they take important decisions and lead the organization to fulfill the divine mandate of the Great Commission of propagating the gospel of Jesus Christ for the salvation of all.
SUNDAY 9TH EMS OF ECWA STAFF Ask the Lord to bless the entire staff of EMS of ECWA, pray that God will give them grace and good health to do his will and provide for all their needs according to his riches in glory.
MONDAY 10TH EMS MEDICAL UNIT Appreciate the Lord for his healing power upon our patients in the clinics as well as those referred to Bingham University Teaching Hospital. Pray for all the medical staff of EMS for God's protection and sustenance, pray that as they render medical assistance to the sick, they will reflect Christ in their lives and bear his testimony.
TUESDAY 11TH FAR NORTH REGION Thank the Lord for the faithfulness of our supporters in living up to their commitments in this region, ask the Lord to bless them and open more doors for them. Thank God for the completion and dedication of a new church building in Dandume in Katsina South DCC. Pray concerning the general insecurity in Katsina state, ask the Lord to bring lasting peace to troubled areas in the state by his mighty power.
WEDNESDAY 12TH SOUTH NORTH-WEST REGION Pray for God's healing upon the EMS coordinator of Panda DCC as well as the wives of two of our missionaries, Mrs. Jock Waziri and Mrs. Lucy Yayok and one of our supporters, Rtd. Major Daniel Kurmi all whom are suffering from ill-health.
Pray for open doors to purchase four motorcycles for missionaries in Kubacha DCC for effective ministry. Pray for God's protection for some mission stations; Unguwan Galadima and Moro area in Kurmi Musa DCC that are facing attacks from Fulani militia. Ask the Lord to thwart all the evil plans of the enemy.
THURSDAY 13TH MID-CENTRAL REGION Pray for God's intervention in the crisis and insecurity in Zango Local Government Area in Kaduna state as a result a clash between the Hausa Fulani and Atyap (Kataf) people over land which resulted in casualties. Zonzon and Damakasuwa DCCs have been greatly affected. Pray for peace that comes from God to be restored to these areas for the sake of his children.
WEEK THREE FOCUS IS ON EMS HOME MISSION FIELDS

"And now, Lord, take note of their threats, and grant that your bond-servants may speak your word with all confidence, Acts 4:29
FRIDAY 14TH NORTH WEST REGION Pray for financial breakthrough for our supporters in this region who are currently experiencing financial difficulties. Many of the supporters and church agencies are yet to resume their activities. Pray for open doors for them so that the work of missions will continue as it should.
SATURDAY 15TH SOUTH-EAST REGION We lost one of our gallant missionaries in this region, late Pastor Jude Nwali, pray for comfort to his family and the entire EMS family as well. Pray for God's provision to purchase five motorcycles for five mission stations in the South East Region to enhance effective ministry.
Ask the Lord to open doors for funds and raise more supporters in this region for the progress of the work of missions.
SATURDAY 16TH FAR NORTH WEST REGION Pray that God will open doors for funds to roof five prayer houses in mission field stations across the region. Some were built with mud blocks and due to that, they can collapse because of the rains. Ask the Lord to make ways for these urgent and very important needs to be met.
SUNDAY 17TH NORTH EAST REGION Pray that God will uphold new converts and those that rededicated their lives to God, that they will be filled with the Holy Spirit and strive to do his will always. Pray for comfort to the wife of one of our missionaries, Mrs. Tambe Maina who lost her mother.
MONDAY 18TH MID EAST REGION Thank the Lord for the commitment and faithfulness of our supporters in remitting their pledges in New Karu DCC. Ask the Lord for open doors for funds to complete some field projects in Tudun Kwashi in Lafiya DCC. Six million Naira is needed for land purchase as well as other materials for the building projects. Pray for new converts and our members in this region. Ask the Lord to fill them with the Holy Spirit.
TUESDAY 19TH SOUTH NORTH-EAST Praise the Lord for the initiative taken by the missionaries in Gongola DCC to raise the full support of one missionary. Ask the Lord to bless them abundantly even as they labour in his vineyard. Pray for peaceful resolution of the conflict between Waja and Lunguda communities in Yamel DCC. The crisis has affected three of our mission stations in the region. Pray for normalcy to return so that the work of spreading the gospel will go on unfettered.
WEDNESDAY 20TH CENTRAL REGION Praise God, the family of Mrs. Alheri Mamman purchased two motorcycles for our missionaries, pastors Dauda Yakubu and Abdul Kolo. Pray for God's blessings and open doors to the family. Pray for God's comfort to the family of late Justice Ibrahim Shuaibu our supporter from Lokoja DCC who has gone to be with the Lord and that of another of our supporter who is late too, whose surviving wife is sick, pray for comfort and healing to her.
WEEK FOUR FOCUS ON CROSS-BORDERS MISSION FIELDS

In that day people will look to their maker and turn their eyes to the Holy One of Israel Isaiah 17:7(NIV)
FRIDAY 22ND GAMBIA Thank God for protecting and keeping pastor Pallyon'top and his family in good health for the past four months as they interact with adults and children whom they teach in his house and sometimes in their houses. Ask the Lord to shield them from any danger especially from the dreaded Coronavirus and grant them wisdom as they labour in his vineyard to bring many to the knowledge of God's saving grace.
SATURDAY 23RD BENIN Pray for the engagement of some disciples in Fijrosse and Porto Novo mission fields to ease the work and to also fully get their full dedication to the work of missions in these fields
SUNDAY 24TH TOGOThereisneedforavehicleforEMSofECWATogoforeffectivecoordinationofmission work in Togo Mission Field, pray for open doors for this urgent need to be met. Ask the Lord to open doors for funds to sink boreholes for Tota village, Kedjida, Cope, Bago and Elvangno areas, that will cost two million Naira. Pray fervently for this need to be met as doing so will send a strong message of love and care to the said communities thereby opening them up to the message of salvation.
CROSS BORDERS CRITICAL NEEDS We are still trusting God for the sum of N854M that is urgently needed for various critical Cross Borders Projects. Let's not relent in praying that God will open doors to raise the funds that will meet these needs.
MONDAY 25TH GAMBIA Pray that God will sustain the small flock at the church in Birkama so that they will shine as a beacon that will bring many more to the saving knowledge of Jesus Christ. Ask God to grant Miss Cham Naomi perfect understanding of God's word as pastor Pallyon'top takes her through baptism classes.
TUESDAY 26TH TOGO Pray for the success of the work of translation going on, ask the Lord to provide funds for this work to be completed for the benefit of Togolese who will hear the gospel and give their lives to Jesus Christ.
WEDNESDAY 27TH MALAWI The Mammans are trusting God for funds to purchase a bus that will cost 10,000,0000 million Kwacha, which is equivalent to N5,0000,000 (5million Naira) as well 160,000 Kwacha, which is equivalent to N 80,000 to purchase white boards to teach children and adult literacy classes. Pray that God will open doors for these crucial needs to be met.
THURSDAY 28TH REPUBLIC OF NIGER Pray that God will open the hearts of the people of Niger to the gospel of salvation through Jesus. Ask the lord to continue to encourage some missionaries who are toiling in what seems to be barren stations. Pray for God's protection from snake bites that have become rampant in some areas in Niger.
FRIDAY 29TH GAMBIA Pastor Pallyon'top Johnjames is in dire need of a laptop computer as the one he was using to teach children computer classes and other mission related work got damaged, pray that God will open doors for him to acquire a new one so that his computer classes with the children will continue.
SATURDAY 30TH NIGER REPUBLIC Then Nigerian boarders with Niger Republic remain close due to restrictions caused by COVID-19 pandemic as a result the country is facing a lot of difficulties. Pray that God will bring an end to the pandemic so that things will return to normalcy.
SUNDAY 31ST TOGO Ask the Lord to open doors for funds that are needed to purchase two hectares of land in Sokode for the headquarters of ECWA Togo Office which will cost five million Naira.
THANK YOU FOR JOINING US IN PRAYER THROUGH THE EIGHTH MONTH OF THE YEAR 2020. MAY THE LORD RENEW YOUR STRENGTH AND ALSO INCREASE UPON YOU GRACE AS YOU CONTINUE WITH US IN THIS PARTNERSHIP. SHALOM!!!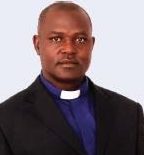 Author: Rev. Simon Yako
Rev. Simon Yako is the EMS of ECWA Director. Rev. and Mrs. Simon Yako were the first couple to be sent to Togo, both graduates of Jos ECWA Theological Seminary (JETS). They both started work with EMS of ECWA as volunteer workers in 1985, and were formally engaged as EMS Missionaries three years later on July 6th 1988. On their initial engagement, they were sent to a home Mission in Ibil, Cross Rivers State in Nigeria.