by Bob | Alaskans celebrate this sunshine tsunami with an enthusiasm that matches how the rest of the country dives into the winter holiday season. (Video: Downtown Summer Solstice Festival by Anchorage Downtown Partnership, Ltd.
Summer solstice floods Alaska with daylight. But while the longest day of the year may be June 21st, that's just a technicality. It basically never gets dark from early June to mid-July between Anchorage and the Arctic Ocean, including Fairbanks and all destinations in between. And true night visits for only a couple of hours—think of the wee hours after midnight—from the Kenai Peninsula to parts south, including Kodiak and Southeast Alaska.
Alaskans celebrate this sunshine tsunami with an enthusiasm that matches how the rest of the country dives into the winter holiday season. It can be a fun, energized time with parties, street fairs, live music, adventures and athletic contests. Events, both private and public, will be all over.

06 Alaska Bound: Midnight Sun Fun Run Fairbanks by Gone with the Wynns
Tips for finding Alaska solstice celebrations:
Check local newspapers, websites and community forums in the week leading up to the Solstice. If traveling outside of towns, swing into roadhouses or local establishments and you might find details for a community picnic or local concert. (Alaskans are super friendly.) Across the state, scores of bars, venues, restaurants, markets and communities regularly hold solstice events, usually on June 21 itself but also on the nearest weekends.
Locals often gather on solstice night at public beaches, river bars, hiking destinations and other geographic features. In Anchorage, check out the 3,245-foot Flattop Mountain in Chugach State Park. Hundreds of people sometimes make the 1,300-foot climb from the Glen Alps parking lot on the Solstice, with scores spending the night on the state's most-climbed summit to enjoy a never-ending sunset backlighting a panorama that includes the Anchorage skyline and Denali massif. (Assuming clear weather.)
It's not just one day! Think of Alaska Midnight Sun time as a season all its own, extending from the solstice week to the Fourth of July. The amount of daylight and direct sunshine doesn't change much, and it can feel like a continuous holiday, with raucous Fourth blowouts climaxing the period. It's the Far North green-season mirror to the December holiday winter solstice season that runs from Hanukkah-Christmas to New Years.
Anchorage: Downtown Summer Solstice Festival
Anchorage's city center jams with activity between noon and 6 pm near the solstice, usually on the closest Saturday.

The activity centers on the Town Square and Fourth Avenue. Live music and other entertainment, along with food trucks and vendors, a chalk art gallery, petting zoo, bouncy houses, hip hop dance performance, beer gardens. The "Hero Games" with athletic feats and contests are open to all first responders in the military, coast guard, fire and police departments.
When: The 2019 Downtown Summer Solstice Festival will occur on June 22nd from 12noon – 6pm  on 4th avenue from C to L Street in Downtown Anchorage! It's a FREE festival, fun for all ages.
Anchorage: Mayor's Marathon
In an annual tradition and athletic challenge that draws a respectable number of elite participants from across the country, the city sponsors a solstice-time full marathon on area trails, plus a half marathon, a relay and other events.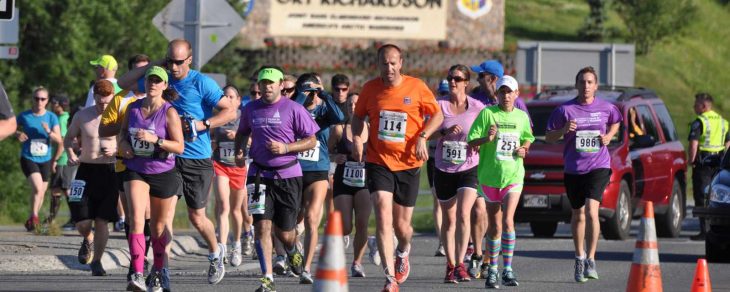 The finish line is on the Delaney Park Strip, only a few blocks from the heart of the Summer Solstice Festival. Racers complete the race, and then blend with their fans and supporters into the downtown crowds.
When & How to Register: The race expo takes place June 20-21 at the Alaska Airlines Center on the UAA campus, with the races taking to the course on June 22, 2019. Online registration is available through the Anchorage Mayor's Marathon website.
Fairbanks: Midnight Sun Festival
The Midnight Sun Festival has become one of the biggest street fairs in the state, held in downtown Fairbanks on the Sunday closest to the summer solstice. The 38th annual event runs from noon to midnight on June 23, 2019—a day when the sun won't actually set until almost an hour after festivities wind down. (Don't worry. It won't get dark.

Fairbanks experiences two continuous months of civil twilight.) The festival features hundreds of food trucks and booths selling a myriad of Made-in-Alaska crafts and products. Four different stages deliver live music, comedy and other performances by 40 different acts, with something new taking a stage every 15 minutes. It's a family-friendly party, too, with a skate park, gold panning and a carnival midway. Sponsors expect at least 30,000 people.
When: The 38th Annual Midnight Sun Festival is Sunday, June 23rd from noon – midnight in downtown Fairbanks. Alaska's largest single-day event, the Festival attracts more than 30,000 people to downtown Fairbanks.
Nome: Midnight Sun Festival
The Seward Peninsula town famous as the finish of the Iditarod Trail Sled Dog Race puts on big community party highlighted by a surf-dodging foot race, a staged gold rush shoot-out (put to rest by retired lawman Wyatt Earp, who operated a saloon in

pioneer Nome) and a polar bear swim in chilly Bering Sea. Performances by Native dancers, an in-town raft race and multiple barbecues complete the scene. The annual party is especially well known for outdoor dining.
When: June 23rd Nome
Seldovia: Summer Solstice Music Festival
For a trip to one of Alaska's most unique seaside villages, try out this solstice celebration and a music festival all in one, usually held Thursday through Sunday over the weekend closest to solstice. The Seldovia Arts Council brings in musicians from across the country to perform at the Susan B. English School, but the whole village becomes part of the venue, with open mic

moments and outdoor sets around town throughout the weekend. Seldovia—located across Kachemak Bay a short ferry ride from Homer—is a favorite weekend destination, a friendly town with Native and Alaska maritime heritage. It has a Southeast Alaska-rain forest feel and is famous for the downtown boardwalk along the harbor. You'll find lots to do in Seldovia.
When: Weekend, June 20th-23rd
Meet Bob
In 1986, while living in Boston and working for a strait-laced consulting firm, Bob dreamed up an audacious plan to celebrate his 25th birthday: go to Alaska (a place he'd never been) and climb Mt. McKinley. Most of his friends thought he was nuts, since he had no ice climbing or winter camping experience. But after 35 days on the mountain—14 of them alone—he reached the summit, all because one Alaska insider, a veteran mountaineering guide named Rob, took Bob aside and shared his secrets on how to do it.
What's this got to do with your Alaska vacation? Everything, actually. Getting insider advice from a trusted source is a good idea no matter where you go, but in a place as big and poorly understood as Alaska, it's essential. Whether you want to hit Alaska's highlights in your own way or venture a little more off the beaten path, Alaska.org is Bob's way of doing for you what Rob did for him.